Extra workshop lighting in 8 ways
Workshop lighting is one of Philips' automotive specialties. Many years of experience in this industry has resulted in the launch of the Xperion line of cordless lights. These are very modern, rechargeable light sources. The range includes eight models. It is worth getting to know them better if only from a purely technical point of view, as they bring several new solutions and improve existing ones.
The Philips Xperion line of workshop lamps is already distinguished from afar by its characteristic bright colors. Thanks to it, they are more visible than gray or black lamps, which are constantly lost or… drive out of the service left unconsciously under the hood of the customer's car. Contrary to appearances, the colored housings do not absorb workshop dirt, so after the work is done, it is enough to wipe them with a cloth. All lamps in the Xperion family have robust housings that meet the requirements of IP65 and IK07 standards and therefore feature increased resistance to shock, dust, and moisture. In the Xperion line Philips has focused on very high quality of light. The user also has ample opportunities to "manage it." In selected models you can adjust both the brightness and the focus of the beam. Another interesting option is the "auto" function that activates the lamp with a motion sensor. The list of innovations includes the Find My Device function, available in some lamps, which is a practical locator. Most of the lamps in the Xperion family can act as a power bank, and one (specifically Flood Audio) is also equipped with a Bluetooth speaker. All lamps in the Xperion family are equipped with practical handles. It's a clever combination of hooks and magnets, designed appropriately for each model. Each Xperion is equipped with a high-quality rechargeable battery, which lasts – depending on the version of the lamp and light intensity – from 4.5 to even 12 hours.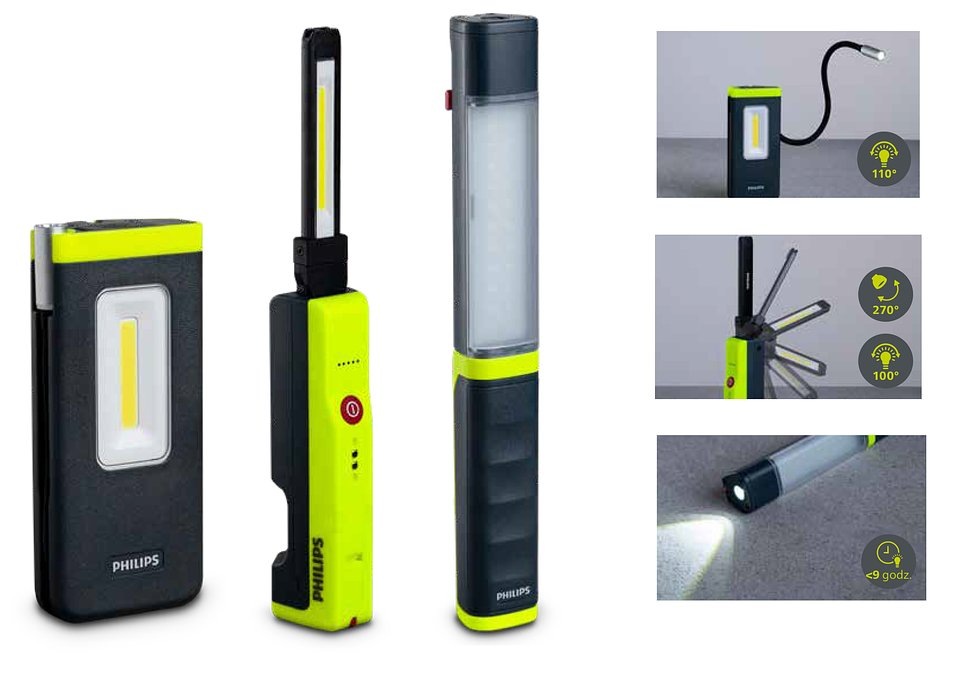 Pillar and UV Pillar
Pillar is a basic "headphone" work lamp equipped with several light sources. One of the LED modules can be conveniently tilted to best illuminate the work area. The UV version (UV Pillar) of the lamp also has a built-in UV LED spot, which is useful for professional or specialized applications. The Pillar and UV Pillar lamps are distinguished by powerful light, long battery life, high CRI and the Find My Device locator function.
Magic Flood "cubes"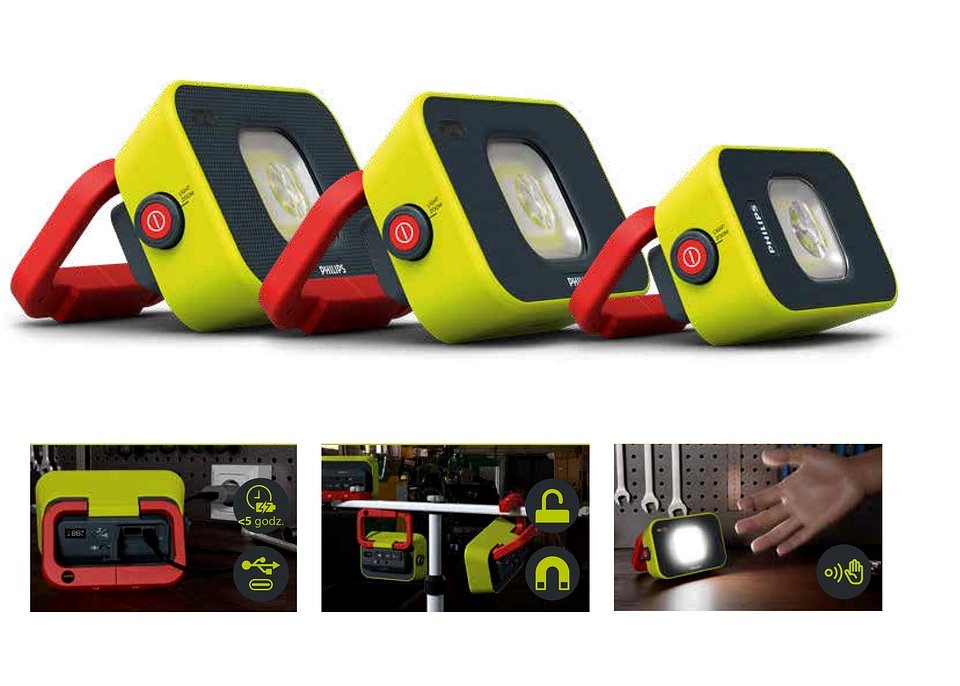 Flood Audio, Flood and Flood Mini are another three workshop lights. They resemble cubes, have adjustable light beams, and thanks to their capacious rechargeable batteries are ideal for continuous lighting of the workstation. They have what's known as lighting memory, meaning that when they are turned on again, they shine in the mode in which they were previously turned off. All three have an original mounting system – a special magnetic holder, which, depending on the setting, can be both a hook and a clamp. The Mini version with an LED charging status indicator is a sufficient source of additional light. It is also equipped with Find My Device locator function. Flood is a larger model. In amplified mode, it emits as much as 1,000 lm (Mini – 500 lm) has a more powerful battery with a digital charge status display and can act as a power bank. It features a motion sensor for remote/automatic on/off.  The Flood Audio is the top model in the range, which has all the features of the Flood version plus a built-in… Bluetooth speaker!
Pocket, Slim and Line – ideal inspection lamps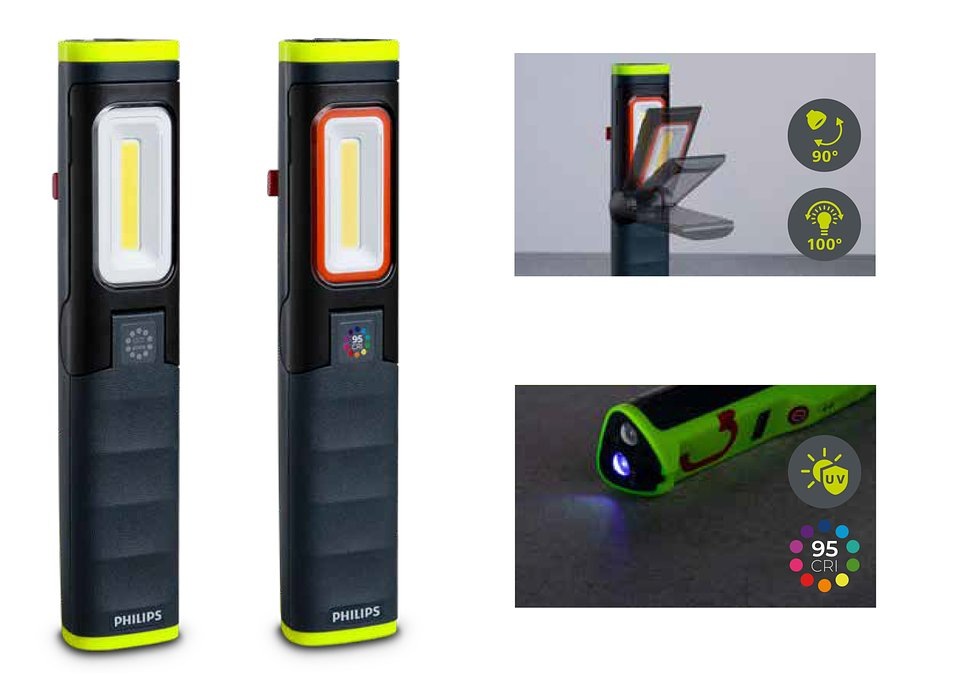 Xperion Pocket is a compact but powerful walkman-sized lamp. In addition to the primary light source, it has an additional light point on a flexible boom of 25 cm. Pocket is perfect for small spaces. A wide base light output of up to 300 lm in boosted mode provides bright light. It is equipped with a strong magnet and hook, which makes it easy to attach to work in boost mode. Slim is ideal for small spaces. With a brightness of up to 250lm in Eco mode and 500lm in enhanced power mode, and a unique 270° rotating light module, it allows you to direct a strong beam of light where you need it. Line is a slightly larger model. Generating a wide beam of light with an angle of 110° and a brightness of 150 lm in Eco mode and 300 lm in increased power mode. It is the modern equivalent of the old led workshop lamps used by virtually every mechanic. Only that it is better than them in every respect. Cordless, with a powerful battery, providing strong light, resistant to impacts, water, and solvents, perfect for both spotlighting and illuminating larger areas.